Great cookbooks on sale for a pittance.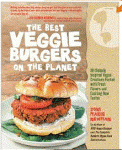 A pittance, I tell you.
At least for today (Jan. 5), Amazon has the Kindle versions of some great cookbooks on sale for $1.99 – $2.99.

I picked up Robin Robertson's Quick-Fix Vegan: Healthy Homestyle Meals in 30 Minutes or Less
. Robertson is pretty much a legend in the vegan/vegetarian world; she has approximately eleventy billion books out, and this one has been at the top of my wish list for a while. Meals in 30 minutes or less! Do you know what that means to me? It means meals in an hour or less, because I'm slow at food prep. But relatively speaking, that's still exciting. These are good, solid plant-based recipes with a minimum of "weird" vegan ingredients.

Hearty Vegan Meals for Monster Appetites
has been on my shelves for a few years, and has gotten a lot of use. Authors Celine Steen and Joni Marie Newman aren't kidding about the Monster Appetites thing; if you ever wanted to veganize that KFC sandwich that uses fried chicken for bread, this book has got you covered. If your tastes are somewhat less gluttonous than that, there are still dozens of amazing comfort-food and baked-good recipes. If someone ever demands 75% of my cookbook collection, this will be in the 25% that stays.

The Complete Guide to Vegan Food Substitutions
is another offering from the dream team of Steen and Newman. It took me a while to check this book out despite my admiration for the authors, as I've been vegan for a quarter-century and am pretty familiar with substitutions. I was glad I checked the eBook out of the library; had I looked at it in a store, I'd have been unimpressed by the first chapter (dairy substitutions: instead of milk, soy milk! Instead of butter, vegan butter!) and moved on. I'm so, so glad I didn't; turns out later chapters offer some completely new-to-me substitutions – not only for animal products, but for things like gluten, soy, alcohol, nuts and sugar. Which is great and all, but it's also a cookbook that contains some genuinely fabulous recipes (savory artichoke pie! Fruit and cheese Danishes!). So happy I could finally acquire my own copy!
UPDATED: Oh! Also Julie Hasson's Vegan Pizza
is only $1.99. I'm a huge fan of Hasson's Vegan Diner and I just this minute got Vegan Pizza in the mail; I think I'm OK having paid more for the hard copy, as a quick look through gives me the impression this book may never leave my kitchen counter. Every single recipe sounds great – she offers a ton of soy-free and nut-free alternatives, so I feel like they'll all be workable no matter which of my food-allergic friends or family members I'm attempting to feed.